How do power plants affect the environment?
Environment, nature conservation and renewable energies
Germany is gradually restructuring its energy supply. Fossil fuels such as coal and natural gas as well as nuclear energy should no longer be used in the future, instead the energy supply should be ensured entirely by renewable energies. This so-called energy turnaround is one of the most important issues in climate protection and economic policy in recent years.
The complete restructuring of the energy supply will take several decades and have far-reaching consequences. For example, it requires an expansion of wind energy and photovoltaic systems as well as the construction of power lines and cable routes. This influences the appearance of the landscape, the natural balance and biological diversity.
As with all structures, the expansion of renewable energies is changing the local nature and landscape. Even if politics and authorities support a nature-friendly expansion through appropriate regulations and procedures, some aspects are controversially discussed. Often the criticism relates to specific construction projects. For example, citizens' groups are protesting against the "pollution" of the landscape during the construction of wind turbines. There is also criticism of the expansion of the power grid because power lines run through nature reserves or farmers fear for the quality of their arable land when expanding underground cabling. Local residents see their interests threatened and are worried because they fear damage to health from noise emissions from wind turbines or radiation from new power lines. Environmental protection organizations warn, among other things, that wind turbines can kill birds and bats.
In the meantime, the question of how the energy transition can be implemented in a natural and environmentally friendly way is an important aspect of its implementation. In Germany, the declared aim of the federal government is to bring the energy transition into harmony with nature conservation. One goal of the Federal Government's National Strategy on Biological Diversity (NBS) is that the generation of renewable energies must not be at the expense of biological diversity. A further expansion of renewable energies should therefore take place in a nature-friendly way and not be realized at the expense of nature and the landscape.
Climate protection - the background for the expansion of renewable energies
The expansion of renewable energies is a central element of Germany's climate protection policy. The background is the climate protection goals of the Federal Republic. With the Paris Climate Agreement, among other things, it has committed itself to helping limit climate change.
Climate change is mainly caused by the release of greenhouse gases into the atmosphere. Most of the greenhouse gases emitted are produced by burning fossil fuels such as crude oil, coal and natural gas. The Federal Government's Climate Protection Plan 2050 provides, on the one hand, to reduce the energy demand and, on the other hand, to generate a growing proportion of the remaining energy demand from renewable energies. The goal of the climate protection plan is for Germany to become largely greenhouse gas neutral by 2050.
In September 2019, the federal government also presented the "Climate Protection Program 2030" with which Germany is to achieve its climate protection targets for 2030. It also states that Germany wants to use energy more efficiently. By 2030, 65 percent of electricity is to be generated from renewable energies. The Renewable Energy Sources Act (EEG) stipulates, among other things, that the share of renewable energies in German gross electricity consumption should increase to 40 to 45 percent by 2025.
In addition, Germany will in future exclude nuclear energy as an energy source. In 2011, the Bundestag decided to phase out the use of nuclear energy by 2022 at the latest. After the reactor accident in Fukushima, Japan, the ethics committee "Safe Energy Supply" set up by the federal government at the time came to the conclusion that nuclear power can be replaced by lower-risk technologies in an ecologically, economically and socially acceptable manner.
The share of the energy sources lignite, hard coal and nuclear energy in the so-called gross electricity generation has already decreased since 1990. Gross electricity generation comprises the total energy generated including the power plants' own use. Today, all three energy sources together only have a share of almost 50 percent of the total gross electricity generation in Germany; in 1990 it was 84 percent. The share of renewable energies has increased more than tenfold in the same period. It was around 38 percent in 2018.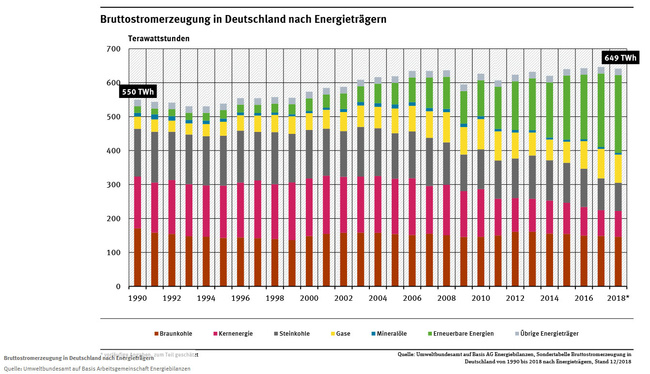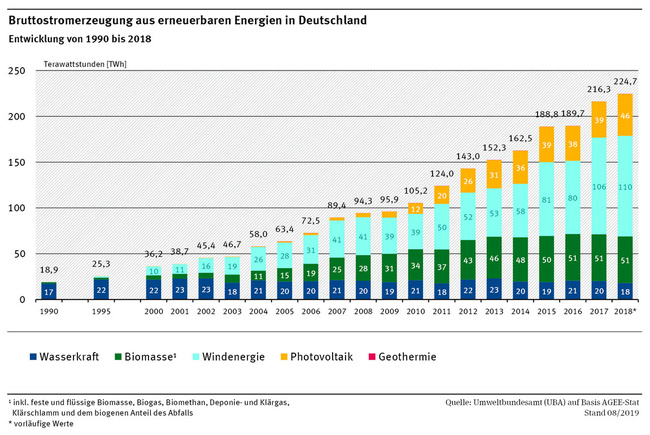 Renewable energies - what is it?
Renewable energies include wind and solar energy, biomass, geothermal energy and hydropower. Renewable energies are energy carriers from which energy can be obtained sustainably because they are either practically inexhaustible within the human timeframe or are renewed relatively quickly. That is why the term "regenerative energies" is used as an alternative. Renewable energies distinguish themselves from fossil energy sources such as coal, natural gas and crude oil, which are finite or only regenerate over a period of millions of years.
The various renewable energy sources contribute differently to the increase in renewable energies. For many years hydropower has made up by far the largest share of renewable energy, and has only grown slowly since 2000. Since then, the shares of photovoltaics and wind turbines in particular have increased. Wind energy and photovoltaics are now the strongest renewable energy sources.
By far the largest share of renewable electricity supply comes from onshore wind energy, at just under 41 percent. In 2017, most of the total of around 28,700 wind turbines were located in the windy areas of Germany in Lower Saxony, Brandenburg, Schleswig-Holstein and North Rhine-Westphalia.
Since the wind is much stronger and more constant at sea than on land, the energy yield from offshore systems can be higher. However, there are challenges in the construction, because the systems have to be anchored at great depths of the sea and connected to the power grid on land. In addition, the system technology must withstand high wind speeds, waves and salty air. At the same time, offshore wind turbines should play an important role in the energy transition.
Photovoltaics also make a relevant contribution to renewable power supply with over 18 percent. Solar power is produced by systems on roofs and facades as well as by photovoltaic open space systems (PV-FFA), for example in fields, meadows or former fallow land. Currently, over 10,500 PV-FFA can be assumed.
Like wind power, hydropower is a renewable energy source that has been used by humans for centuries. The electricity is generated here with the help of turbines and generators. There are currently around 7,300 hydropower plants in operation nationwide. By far the largest number of plants are located in the federal states of Bavaria and Baden-Württemberg. Smaller amounts of electricity from hydropower are generated in North Rhine-Westphalia, Saxony and Hesse. Almost 90 percent of all systems have a very low output (less than 100 kW). Here it has to be weighed up whether the small contribution to electricity generation is justified in comparison to the structural changes to the rivers.
Then there is bioenergy. This includes the production of biogas and fuels based on renewable raw materials. This also includes the use of wood for heating - a traditional form of using renewable energies. Bioenergy is relevant in the heating, electricity and transport sectors. There are currently around 8,700 biogas plants in Germany, more than half of which are in Lower Saxony, Bavaria and Baden-Württemberg. The exact number of biomass plants in the heating sector is not known - the stock includes around ten million chimneys and stoves, mainly for logs and in private households. In the transport sector, biomass is largely mixed with fossil fuels, such as biodiesel and bioethanol.

In 2018, a total of 428 terawatt hours (1 TWh corresponds to 1 billion kilowatt hours) were provided from renewable energies, which corresponds to almost 17 percent of final energy consumption in Germany. Of this amount of energy, around 53 percent (or 226 TWh) was used for electricity production, around 40 percent (or 171 TWh) for the heating sector and around seven percent for biofuels for transport (32 TWh). Overall, the share of renewable energies in final energy consumption was 16.6 percent across all sectors.
The share of renewable energies in the electricity sector increased from 36.0 percent (2017) to 37.8 percent (2018) of gross electricity consumption. In total, around 225.7 TWh of electricity were generated from renewable energy sources in 2018, 4.3 percent more than in the previous year. For the first time, electricity generation from renewable energy sources reached roughly the same level as electricity generation from lignite and hard coal combined.
How does the expansion of renewable energies affect the environment and nature?
The energy transition aims to relieve the environment and protect the climate. At the same time, however, the expansion of renewable energies also interferes with nature and the landscape. Above all, they take up land, change the landscape and have an impact on species protection.
a) Use of land
The various renewable energy sources have different space requirements. Above all, energy systems such as wind energy systems (WEA) or photovoltaic open-space systems require large areas in order to produce energy. In addition, unlike coal or nuclear power plants, for example, they have a decentralized structure.
From the point of view of environmental and nature conservation, open areas fulfill important functions and are worth protecting. The Federal Government therefore wants to ensure that in future less free space will be used than before, for example for the construction of buildings or roads.
Renewable energy systems are not added to the statistical land use, but they do take up arable and grassland areas. It should be noted here that the area between photovoltaic systems can still be used in part, for example as pasture for sheep.
Energy crops such as maize also need space. Energy crops are currently being grown on 2.4 million hectares of arable land. This corresponds to a share of around 20 percent of the German arable land. How much space is required for so-called solid biomass such as wood, on the other hand, is difficult to quantify.
A subsequent effect of the space requirement is that the space can no longer be used as it was originally. This means that farmers have to relocate some of the production of food and feed to other areas. This leads to the development of new cultivation areas elsewhere. In addition, land values ​​and lease prices are increasing due to a higher demand for space. The Federal Agency for Nature Conservation therefore advises using space as sparingly and efficiently as possible, even when expanding renewable energies.
b) landscape
In addition to a quantitative intervention, renewable energy sources can represent a qualitative intervention in the natural balance. Landscapes are habitats for people, animals and plants. Among other things, they are used for relaxation and create a sense of home and belonging in many people.
Because the increasing decentralization is an essential feature of the energy transition, renewable energy sources intervene in the appearance of landscapes in many places. Compared to central fossil or nuclear power plants, the energy supply from renewable energies requires a large number of small systems.
How visible systems for generating renewable energies are also influences whether they are perceived as a disruption. Wind turbines take up comparatively little space, but because of their height they are much more visible than, for example, photovoltaic open-space systems.
c) Species protection and biodiversity
Time and again there is public discussion of how renewable energy systems affect the protection of animals and species. Among other things, it is feared that the rotors of wind turbines will kill a large number of bats and birds of prey. The state working group of the bird protection stations reported in its "central victims record" between 2002 and 2019 just over 4000 birds killed by wind turbines. For comparison: The BUND reported that in Germany over 18 million birds die every year from glass and panes of glass.
It is undisputed that the expansion of renewable energy influences species protection. The concrete effects on species and their habitats and possible impairments are very different for renewable energy sources. Wind turbines can not only destroy or change the habitats of animals, they can also lead to collisions with birds and bats. They can also disturb or frighten animals during their breeding season. Fish, in turn, can get caught in the turbines of hydropower plants.
When erecting offshore wind turbines, underwater noise is also generated when the foundations are rammed into the seabed. Sound travels faster in water than in air and can damage the hearing of marine life and lead to stranding. Whales and dolphins are particularly hard hit. In addition, there is also a risk of birds colliding with the wind turbines at sea and losing resting and feeding areas.
Increasing demand for biomass can result in more intensive agriculture. The large-scale cultivation of energy crops such as maize can contribute to the loss of biodiversity in the agricultural landscape.
d) Social consequences
For citizens' initiatives, nature conservation is the strongest argument against the greater expansion of plants for renewable energies.
Another argument against an expansion is the individual and social consequences that arise from the construction of plants. A critical attitude towards the energy transition is often based on the change in the landscape, which people are particularly aware of. Another reason can be nature conservation, which is an emotional issue for many people. Above all, wind turbines are in the focus of the debate. At the individual locations where wind power plants are built, there are often debates about the health consequences of the noise from wind power plants.
Nevertheless, there is still great social support for the energy transition overall. In order to maintain this acceptance, it is considered necessary to shape the energy transition in an exchange with residents and stakeholders.
How can conflicts over renewable energies be resolved?
There are already various regulations and efforts aimed at avoiding or resolving conflicts in connection with the expansion of renewable energies.
In the Renewable Energy Report 2019, the Federal Agency for Nature Conservation (BfN) presented an inventory of research on the environmentally friendly expansion of renewable energy. The report outlines the challenges of a nature-friendly expansion and comes to the conclusion that nature conservation and the energy transition are possible in harmony.
Laws and ordinances are already addressing the challenges of nature conservation and environmental protection, for example in the search for nature-friendly locations by limiting the agricultural and forestry cultivation of energy crops and building regulations for renewable energy systems. This includes the so-called environmental impact assessment. It stipulates that all projects that could have an impact on the environment and nature must be examined to determine how badly the environment will be affected. The law is accordingly also applied to the construction of larger wind farms. For offshore wind turbines it also applies that, for nature conservation reasons, they may be built mainly outside the 12 nautical mile zone in the so-called exclusive economic zone (EEZ).
In addition, further research into the effects of renewable energy systems on nature and environmental protection appears to be necessary.
In the case of current conflicts, for example, the Federal Ministry for the Environment, Nature Conservation and Nuclear Safety (BMU) offers municipalities guidelines for the "conflict dialogue in the approval of energy transition projects". The guideline recommends formats for an early dialogue between municipalities and residents. It is taken into account that different problems and conflicts arise for different types of systems. In order to create and increase acceptance for planned measures of the energy transition, information, participation and mediation between the various actors are of great importance.
In the event of a conflict, the Competence Center for Nature Conservation and Energy Transition (KNE) is available to all actors as an independent and neutral point of contact. The KNE supports the environmentally friendly expansion of renewable energies and was set up on the initiative of environmental associations and the BMU.
The Federal Agency for Nature Conservation advises against intervening in protected areas whenever possible, also in order to increase social acceptance of renewable energies and the energy transition in rural regions.In return, more renewable energy sources such as photovoltaics could be used in cities.
What can citizens do?
Citizens can also make a contribution to facilitate the switch to renewable energies. In addition to the expansion of renewable energies, there is a possibility of using less energy or using energy more efficiently. This applies, for example, to owners who renovate their houses and apartments in an energy-efficient manner, but also to tenants who reduce their electricity consumption by heating in an environmentally friendly manner or by using electrical appliances. The Federal Environment Agency gives various pieces of advice.
Since controversial and sometimes contradicting statements are made in the discussion about the energy transition, it is also important to find out about the topic yourself. The Federal Environment Agency offers an overview of the key questions and answers about the energy transition.
Download material