Should I eat quickly or slowly?
A study with 3,000 participants was also published in The British Medical Journal, which showed that eating quickly can have a negative effect on body weight. Those test persons who ate quickly had three times the risk of accumulating extra pounds than those who ate comfortably and in peace.
Eating slowly is worthwhile in several ways
Of course, it is difficult to fit the daily meals into an often hectic schedule and then to take plenty of time for them. However, eating slowly (at least 30 minutes for a meal) and consciously pays off in several ways.
The meals are digested without any problems (without subsequent flatulence, heartburn, etc.), the nutrients can be better utilized and a strong feeling of satiety occurs. The latter means that on the one hand (per meal) smaller amounts and on the other hand fewer or no snacks at all are eaten, which in turn means that fewer calories are consumed and thus obesity with all its pathological consequences is prevented.
(1) GLP-1: Glucagonlike Peptid-1 is a peptide hormone that is formed in the small intestine as soon as fat or carbohydrates arrive there. Its task is to suppress the appetite so that one does not eat indefinitely. Peptide hormones are hormones that are made up of amino acids. Insulin is also such a peptide hormone. (2) Peptide YY: Peptide YY is also an appetite-suppressing peptide hormone that, like GLP-1, is produced in the intestinal mucosa.
Also read: How to stop your hunger pangs
donation
Your donation helps us
If you enjoyed this article, we would appreciate a small contribution to our work! Donate now with Paypal.
display
Distance training to become a holistic nutritionist
Are you interested in what's in our food and want to know how nutrients and vital substances affect the body? Do you want a healthy life for yourself, your family and fellow human beings? Nutritionists are popular - but the holistic aspect that is needed for sustainable health is often forgotten when giving advice. At the Academy of Naturopathy, you will get to know the connections between lifestyle and diet as well as physical and psychological well-being.
That educates interested people like you in around 16 months to become a holistic nutritionist out.
Is this article worth reading?
Share this article
swell
Maruyama, Koutatsu, et al. "The joint impact on being overweight of self reported behaviors of eating quickly and eating until full: cross sectional survey."Bmj337 (2008). (The common influence of eating hastily and having a full meal on obesity: a cross-sectional survey)
Notice on health issues
This information is passed to the best of my knowledge and belief. They are intended exclusively for those interested and for further training and are in no way to be understood as diagnostic or therapeutic instructions. We do not assume any liability for damages of any kind, which arise directly or indirectly from the use of the information. If you suspect illness, please consult your doctor or alternative practitioner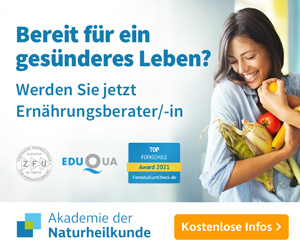 Subscribe to Newsletter
Exciting information about health and nutrition
1x per month
Login Successful. You will shortly receive a confirmation at the specified email address.
With your registration you allow the regular sending of the newsletter and accept the data protection regulations.
HEALTH CENTER © 2021 Neosmart Consulting AG. All rights reserved.