How do I earn Bitcoins easily
Earning Bitcoins: 5 Easy Ways
1. Earn bitcoins with signature ad campaigns
A relatively easy way to earn bitcoins is to participate in signature campaigns on bitcointalk.org. Bitcointalk.org is a forum in which users exchange information about Bitcoins, Altcoins, ICOs and much more.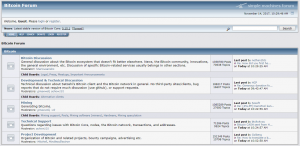 In addition, campaigns from Bitcoin services that you can participate in are published almost daily on bitcointalk.org. According to your user status (the longer you are active in the forum, the higher your status will be) you can add a signature code to your profile. Then you only have to publish a few (meaningful) posts per day and you can start earning bitcoins. The higher your user status, the more is paid out. For example, as a "Legendary Member" you can earn Bitcoins worth $ 100 per week. Here is a list of current signature ad campaigns on bitcointalk.org: https://bitcointalk.org/index.php?topic=615953.0
Social media campaigns are also regularly published on bitcointalk.org. For example, if you have a Facebook, Twitter or Telegram account, you can also use it to generate crypto income. For example, here is a list of Twitter campaigns: https://bitcointalk.org/index.php?topic=2248490.0

2. Earn bitcoins as a freelancer
Another way to earn bitcoins is to work as a freelancer. If you like writing articles, are a developer who wants to earn a few coins on the side, or a web designer, then as a freelancer you can earn bitcoins relatively easily. All you have to do is register with one of the freelance platforms that use Bitcoins to pay for. Then you can start. For example, XBTfreelancer.com is looking for authors, designers, developers, marketers and bloggers. After registering, you can search through the open projects and apply for them.
3. Earn bitcoins as a website operator
Do you have your own website? Then you can monetize them and earn bitcoins. There are numerous affiliate programs that you can participate in. For example, there are a number of Bitcoin brokers or Bitcoin exchanges that offer affiliate programs. There are also providers of wallets or various Bitcoin services such as Bitcoin mixers who offer affiliate programs.
Another way of monetizing websites with Bitcoins is through ad networks such as Coinzilla. The admission requirements for these networks are not too difficult to meet. As a rule, a certain "minimum Alexa ranking" is required (in the case of Coinzilla, below a million). It also has to be a professionally designed website with good content posted. And of course, we will not accept websites that deal with illegal topics, publish pornographic content or that only contain spam or bot traffic.
If your site is accepted, you can integrate advertising material in various formats. Payment is usually made for CPMs (thousand contact price) or clicks that users make on your website.



4. Earning bitcoins in the form of interest income
One way to generate passive Bitcoin income is through interest. For example, freebitco.in offers 4.08% Bitcoin interest per year. The earnings flow from a deposit of 0.0003 Bitcoins and are credited daily. And don't worry: freebitco.in is not a scam site that steals your coins. The site has been around since 2013, has an SSL certificate and is one of the most popular Bitcoin websites in the world.
Passive Bitcoin income can also be generated by lending Bitcoins and receiving income in return. Bitfinex, for example, offers the "Funding" option. You make your Bitcoins available to margin traders and receive interest for it. Once you have chosen this option, you can freely choose at which interest rate and for how long you want to lend your coins. There is also the "Auto-Renew" option. It ensures that a rental offer is automatically created again after the "rental period" has expired.
[cryptocompare exchange = "393"]
Another opportunity for bitcoin passive income is investing in gamble websites. For example, yolodice.com offers the opportunity to invest in their website balance. The minimum deposit is 0.005 Bitcoins and you have the option to leverage the investment (the highest leverage is ten). The investments can be held for as long as you like. It is well known that the bank always wins and when you invest in a site like Yolodice you belong to the bank from then on. 😉
Here is a chart of Yolodice's "Investor Stats":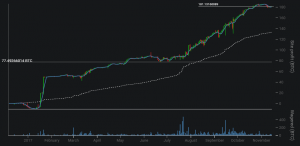 5. Earn bitcoins with PTC sites
For the sake of completeness, we would like to go into the subject of PTC sites (PTC: "pay to click"). These are pages on which the user looks at ads and gets paid for them. If you don't want to invest bitcoins, are not a website operator or a freelancer, you can still earn bitcoins with it. All you have to do is visit these pages on a daily basis and look at all of the available ads. Then you can earn a little something over time. Some of these sites also offer to rent or buy referrals, which can increase the income a little. Nonetheless, it has to be said that this is an income opportunity that will not really get you rich.
Up to 30 ads per day
Up to 0.0004 mBTC per display