How Ravi Shankar conquered world music
The Indian sitar player Ravi Shankar knew the feeling of loneliness that surrounds many people in the Corona crisis only too well. "I experienced so much love, but my loneliness never went away," the musician confessed in an interview in 1977. "I've carried it around with me all the time since I was born."
Perhaps Shankar's frame of mind explains why his music is so good for lonely people especially now, in times of Corona. Shankar's meditative sitar sounds invite you to slow down.
Ravi Shankar, who was born in colonial times, had a very fast-paced life. He saw the light of day on April 7, 1920 in Varanasi, northern India, as the son of a wealthy Brahmin family.
As a musician, Ravi Shankar later toured the world and blurred the boundaries between Indian and European classical music with his art. He continued to give concerts up to the old age of 92.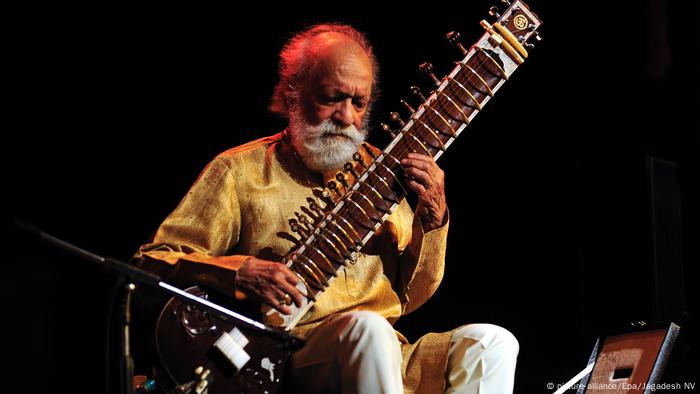 Ravi Shankar: One of his last concerts - in Bangalore (2012)
Inspiration for the Beatles
He was also not afraid of western pop music. In 1966 Shankar taught the Beatles' lead guitarist George Harrison to play the sitar while in India. Harrison later used the Indian string instrument for songs like "Norwegian Wood" or "Within You, Without You". A close friendship developed between the two very different musicians.
Ravi Shankar was on stage at an early age - as a dancer. At the age of ten he traveled to France with his older brother Uday's dance group, the "Compagnie de Dans et Musique Hindou". Two years later the ensemble toured Europe and North America.
For the youngest of the seven Shankar brothers, this was the perfect opportunity to gain experience in dancing, explore Western culture - and learn various Indian instruments at the same time.
Ravi Shankar became the musical guru for George Harrison (left) in 1967
At the age of 18, Shankar decided to devote himself entirely to playing the sitar. He turned away from dancing and for several years studied intensively the sitar, an Indian instrument that can have up to 20 strings. He spent this time in the city of Maihar, in the Indian state of Madhya Pradesh. His teacher at the time was Allauddin Khan, the father of the successful composer and sarod player Ali Akbar Khan.
Ravi Shankar released his first LP "Three Ragas" in 1956 in London. He wrote concerts for sitar and orchestra and toured the world with his music.
Shankar becomes a Woodstock icon
With Shankar's success, the Indian influence on western pop music grew, for example in raga rock or jazz. His popularity manifested itself not least in the fact that the jazz saxophonist John Coltrane named his son Ravi after him in 1965. In August 1969 Shankar played alongside rock stars like Jimi Hendrix and Janis Joplin at the legendary Woodstock Festival - and from then on was also an icon of the hippies.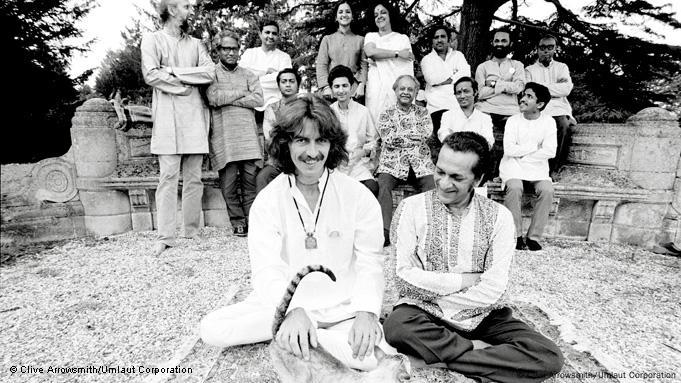 Beatles guitarist Harrison (left) and sitar player Shankar at the "Music Festival from India" (1974)
The world's first charity concert, which Shankar and George Harrison organized in New York's Madison Square Garden in 1971, was also legendary. With the "Concert for Bangladesh" the two friends collected money for the refugees of the war between Pakistan and Bangladesh (at that time the countries were still called West and East Pakistan). The recording of the event received a 1972 Grammy for "Album of the Year".
But interest in his music was not limited to the flower power era of the 1960s. The American composer John Cage, the French flautist Jean-Pierre Rampal and the world-class violinist Yehudi Menuhin also felt strongly attracted by the Indian sitar sounds of Ravi Shankar.
Famous daughters: Norah Jones and Anoushka Shankar
Shankar's private life was marked by separations and new beginnings. In 1941 he married the daughter of his sitar teacher Allauddin Khan, Annapurna Kahn. Their son Shibhendra (1942-1992) was only 50 years old. After twenty years of marriage, Ravi and Annapurna divorced.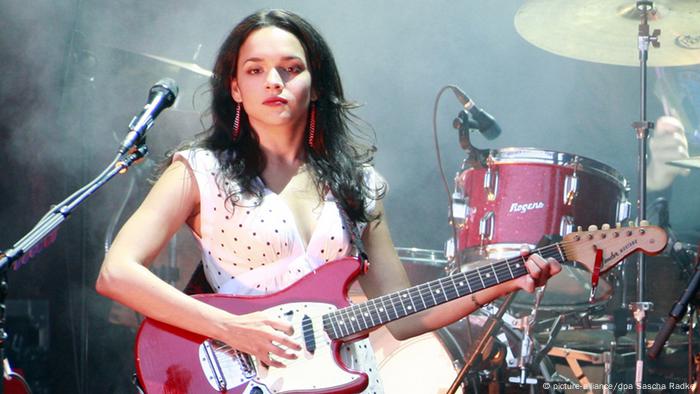 Talented: daughter Nora Jones as a young pop musician
In 1979 Ravi Shankar's first daughter, Norah Jones, began an international career as a singer 20 years later and won several Grammys in 2003. Norah's mother, Sue Jones, was a successful concert producer. The relationship with Shankar only lasted a few years.
In 1989 Shankar remarried. At the time, he already had an eight-year-old daughter, Anoushka, with his second wife, Sukanya Rajan. She also learned to play the sitar and classical Indian music. Later she often accompanied her father on his tours. In 2003 Anoushka Shankar was nominated for a Grammy for her own solo album "Live at Carnegie Hall".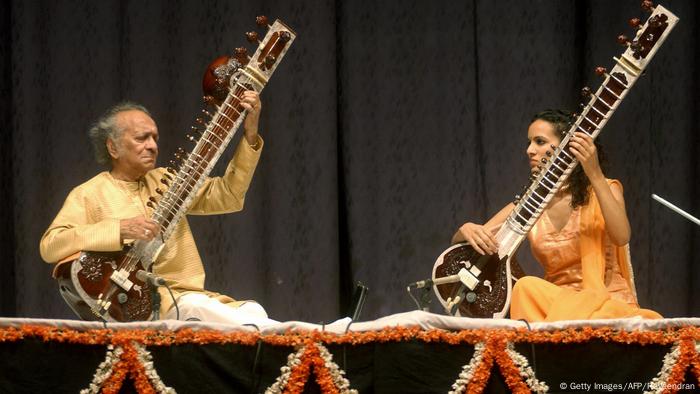 Classical Indian sitar music: daughter Anoushka Shankar continues the tradition of her father
As a globetrotter, Shankar may have felt lonely many times. With his music, however, he has connected people from all over the world with one another. The Indian musician won a total of four Grammys. George Harrison once called him the "godfather of world music".
Most recently, the Hindu lived and convinced vegetarian Ravi Shankar with his wife Sukanya in Southern California. There he died on December 11, 2012 in San Diego at the age of 92. His music lives on.
(with KNA and Munzinger)