How can I travel with less clothes?
Off on vacation. But first it means - packing your suitcase!
Let me guess: you always pack way too many things. According to the motto "just in case!". Most of them you take home unworn. You will probably find it difficult to decide - what to pack in your suitcase and what is unnecessary.
Packing your suitcase - with your head
The beautiful new silk blouse - THAT has to be with you! Regardless of whether it wrinkles in the suitcase and you see sweat stains at high temperatures. Because it is transparent, you still have to pack the matching top, which unfortunately doesn't go with any of your outfits. Oh yes, there were the new strappy stilettos - the color just go great with the long summer dress. They are otherwise completely impractical for the vacation, but it doesn't matter, they have to be with you. A pair of shoes more or less doesn't matter.
And so more and more items of clothing are being packed. There is a risk of excess baggage and you start your vacation stressed out.
N / A? Caught? 😉
Stop it! With my 10 tips you can start your vacation relaxed - because from now on it will be packed with brains.
1. Where is the journey going - and for how long?
Beach vacation or hiking, city break or cruise? Will there be special occasions or even a dress code? How long will you be on the road?
Take a piece of paper and a pen and write down the locations, occasions, and number of vacation days. Then write down your matching "travel must-haves": items of clothing that you urgently need. This could be a bikini or walking shoes, for example.
The tips also work well for camping. Because small luggage is important here and this works through versatile combinations.
2. Lots of basics, little extravagance
The majority of clothing items for your trip should be plain and solid color. Basics in blue, gray, white, black and beige. A few patterned and colored things bring variety. With these garments you can ideally combine.
Shirts in umpteen colors, with leopards, sequins and the like are allowed to stay at home. They are not suitable for narrow luggage. It is better to decide on 1 - 2 color themes (e.g. red and khaki) that you can repeat in the accessories.
You can find more tips on combining basics in this post.
Shoes and bags should be neutral in color and match any of your pants, skirts and dresses. While you can make a statement at home with colored shoes and bags, that is more difficult to combine for travel. 2 pockets are enough for the vacation. For example a shoulder bag and a smaller bag for the evening. One pair of shoes per occasion (hiking, strolling through town, evening).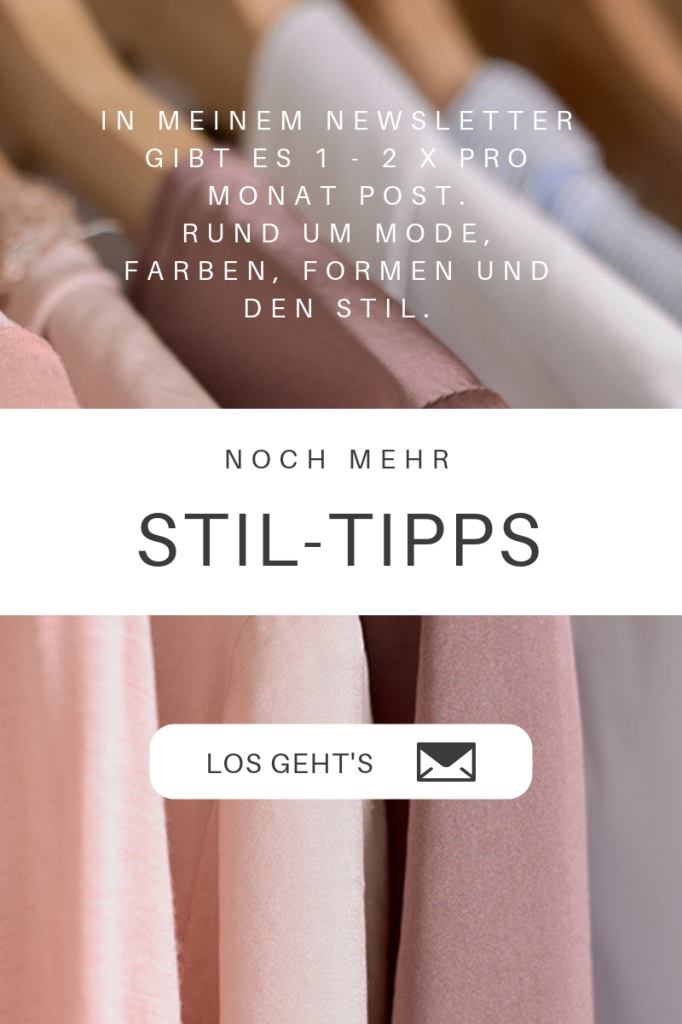 3. Accessories set accents
Spice up your simple basics with necklaces, bracelets, earrings and scarves. This makes the looks changeable for different occasions.
Advantage: Accessories don't take up much space. Store the jewelry in a fabric jewelry bag. You get this z. B. at Dawanda. So nothing gets tangled and your clothes are also protected from sharp edges.
4. Put together outfits
Now it's time to combine it: select bottoms such as trousers, shorts and skirts. Since you can wear each lower part several times, 3 - 6 parts are usually sufficient, depending on the duration of the trip.
Place the bottoms on the bed or the floor. Now add matching tops. Remember: simple, monochrome, few patterns and 1-2 color themes. EACH top must match at least 3 bottoms. A dress counts as a whole outfit that you can wear multiple times. Incorporate your previously noted travel must-haves as well.
You take a maximum of 1 top with you per day of vacation. Including chic tops for the evening. You can certainly wear one or the other top twice. In an emergency, pack a tube of travel detergent.
Below I have created a collage for you:
"Luggage" for a 12-14 day vacation in Tuscany
Occasions: city trips and country trips with short hikes
Evenings in restaurants and bars.
Ok, I forgot the bikini. If you want to swim in the south (laughs).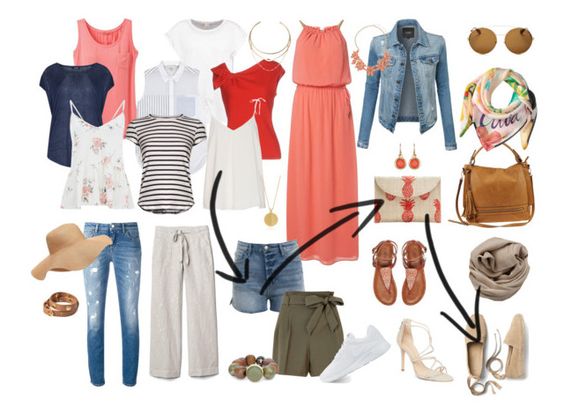 ---
Sample outfits: The white top is combined with denim shorts and espadrilles for a stroll through town. In the evening with the culottes in khaki, heeled sandals, the bag with red accents comes with matching earrings and a chain. A beige pashmina scarf will keep you warm on cool evenings.
The khaki pants skirt, in turn, goes well with the white sneakers and the floral top + denim jacket, etc.
TIP: Take photos of your own clothes and use them to make a collage. That helps enormously at the beginning!
The planning is in place ... now it's time to actually pack your suitcase
Now it's getting interesting for men too.
5. Collect first, then pack
EVERYTHING you want to take with you, you bring together (books, headphones, travel guides, etc.). You should have everything in view to start packing.
6. Roll instead of fold
Scarves, light shirts and trousers can be rolled up instead of folded. This means that things crease less and are much easier to stow away.
7. Wrinkle-free
You can use tissue paper for delicate clothing such as a blazer or for fine materials. Spread on clothes - then fold. In this way, strong kinks can be avoided.
At your holiday destination, you should unpack your suitcase as quickly as possible so that you can hang up your clothes. If an item of clothing is wrinkled after all, hang it up in the bathroom. This is improved by the moisture that is created when showering.
8. Heavy down
Toiletry bags, books, etc. belong on the bottom of the suitcase or near the suitcase rolls. Otherwise the difficult pieces will mess up your whole order again.
9. Fill gaps & save space
Pack your underpants and socks last. They fit perfectly into the many small gaps that still exist in the suitcase. It is the same with the jewelry bags. It is best to pack each shoe individually in bags and stow them in the suitcase - this saves space and keeps shoes and laundry clean. Tip for winter holidays or bulky items of clothing such as thick sweaters, down jackets or towels. You can stow these in a vacuum bag to save space.
10. Beware of holiday shopping trap
Going shopping at the holiday resort is a wonderful change. I also like the feeling of being back in Germany, reminding myself of my vacation while wearing my clothes or accessories. But CAUTION. The holiday mood and the different flair of the holiday destination tempt you to buy clothes or other souvenirs that we may not wear in Germany in the end. So - think carefully about whether this new item can also be a loyal companion at home or on other vacations.
Conclusion: less is more.
By the way, if you have set up a wardrobe that can be combined in many ways, you will encounter fewer problems packing your suitcase. So the frustration with packing starts much earlier - namely with haphazardly buying clothes. So if you shop with your head, it is easier not only in everyday life, but also when packing your suitcase.
I wish you and your loved ones a relaxing vacation!
sincerely
Sonja Garrison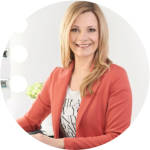 ---
Get my OUTFIT guide and 1 - 2 times a month STYLE tips, special offers and the latest blog posts. Here is the registration form for the newsletter: Registration
You can unsubscribe from the newsletter at any time with just one click.

Please recommend this article to friends and family. B. forward by email.
Accessories, cloakroom check, packing your suitcase, combining, packing