Which devices does Facebook Paper support
Paper: The Better Facebook
With Paper, Facebook has achieved a masterpiece. An app so stylish and intuitive that you don't even want to close it. Because paper has no future.
For a long time Facebook slept through the topic of "mobile", if not to say screwed it up. Facebook was already on the smartphone when the devices didn't even deserve this name. But not much has changed since then. Facebook on the iPhone and later on Android was about as much fun as visiting the dentist.
It wasn't until the IPO two years ago that Facebook finally developed an app that succeeded for the first time in meaningfully translating the network onto the small screen. Since then, the software has been continuously improved and expanded, most recently with an independent messaging app for chatting.
The best from both worlds
With Paper, the network of friends is now presenting a newsreader that aims to combine the advantages of social networks and curated news channels. The result is an app that is somewhere between Facebook, Flipboard and the Yahoo News Digest. An app, I can say that much after the first few hours, that has earned a place at the front of my start menu.
In addition to status updates and "likes" from my friends, you can subscribe to Paper "Sections" that are selected and compiled by Facebook employees. Immediately after opening the app, you will be asked which content you are interested in. Themed worlds can be selected from a carousel, such as Headlines, Tech, Enterprise or Planet. If you prefer it more playful, you can also choose Cute, LOL, Creative or Ideas.
More than just eye candy
You don't even have to book your own circle of friends. As soon as the app is opened, it automatically logs into your own Facebook account - without asking - and shows the familiar friends newsfeed in the new design. First of all, this may bump up concerns like me. Then again: Anyone who voluntarily loads a Facebook app onto their smartphone usually also intends to use it. In this respect, this auto login is only logical.
There is not much to say about the app itself - except this much: it is dead chic, intuitive to use and runs smoothly like a cat. The menu navigation is self-explanatory after a little playing around. To be on the safe side, there is an interactive in-app tutorial that guides the user through the interface step by step.
The navigation
About the surface itself: It consists of two horizontal streams of content. The upper area shows the sections between which you can switch back and forth by swiping sideways. In the lower area you can see previews of the articles that are in the respective section. If you have found a text that interests you, you can leaf through it with your thumb from bottom to top (hello flipboard!).
In terms of content, the app also impresses with the concept of bringing both gatekeepers, professionals and amateurs, on an equal footing next to each other. As a trained journalist, I particularly like the fact that the importance of professional editors tends to be revalued through papers. A development that can also be observed in other news apps, most recently with Yahoo News Digest.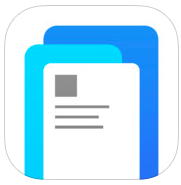 Conclusion
If you like Flipboard, you will love paper. The app adds the best of Facebook to the Flipboard experience. It impresses with a lot of eye candy, but this is not at the expense of usability and speed. The only disadvantage of Paper compared to Flipboard: Other social streams such as Twitter are not considered by Paper. But not a show stopper for me. For Twitter, I use Tweetdeck anyway. Paper is the better Facebook - more content, less chatter.
By the way, the killer reason why you should replace your "old" Facebook app with paper as soon as possible: No advertising! Not yet. Let's enjoy it as long as it stays that way.
positive
intuitive navigation
fluid animations
chic, tidy layout
curated channels
Integration of Pocket
negative
logs into Facebook without being asked
Headlines illegible in carousel view
Sources of the topic channels extremely limited
And your first impression?
Did you like the article?
Please support my blog with a donation.
I like the app. Now I would only like to have it in German, with German curated content and, above all, in the German AppStore.

The first impression is quite ok. Fluid style and well structured. Tried on an iPhone 4s.
However, very few topic channels are available so far. As soon as that changes, it can definitely be an asset.