A train needs coal to run
How green is Deutsche Bahn really?
"Traveling by train is climate protection," says CEO Richard Lutz. "This is green," advertises the company on posters. Since January 1, 2018, "every traveler has been using 100 percent green electricity."
But it is not the case that Deutsche Bahn (DB) flips a switch at the beginning of the year and suddenly every electric locomotive is powered by electricity from renewable sources. "100 percent green electricity" is a promise that is fulfilled through levies.
The promise does not apply to freight and local transport, but only to long-distance trains. According to Deutsche Bahn, around 140 million travelers travel by IC or ICE every year. The company calculates the share of long-distance traffic in the energy consumption of all rail traffic and purchases the corresponding amount of green electricity.
Individual travelers do not notice anything. And it is quite possible that the train you are sitting on is powered by electricity that was produced in a nuclear or coal-fired power station.
Every year, Deutsche Bahn publishes where the electricity for its trains comes from.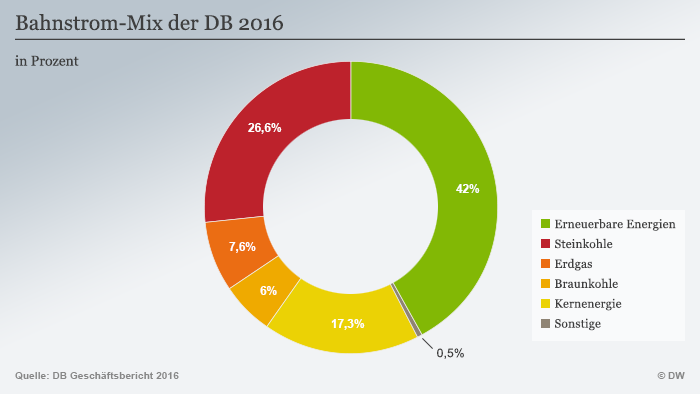 A large part of the traction current is still generated by coal and nuclear power. The share of renewable energies was 42 percent in 2016. With the promise to rely entirely on green electricity in long-distance transport, this proportion will "probably increase to 50 percent" in 2018, DB spokesman Gelfo Kröger told DW.
The railways in Austria are much further ahead in this regard. 90.2 percent of your traction current comes from hydropower, 2.3 percent from wind power and other renewable sources and 7.5 percent from natural gas.
"The Austrians are in a much better situation," admits DB spokesman Kröger. "They have plenty of hydropower in their own country, they also have a corresponding gradient and many more hydropower plants than in Germany."
In the medium and long term, however, Deutsche Bahn also wants to increase its share of green electricity. In 2030 it should be 70 percent, then 100 percent in 2050. "That is our declared corporate goal," says Kröger. According to its own statements, the railway is one of the largest consumers of electricity in Germany.
Slow change
But isn't the switch to green electricity faster? No, says the railways, after all, their trains should run even if not enough electricity is produced in Germany by solar or wind power plants. "Without additional storage technology, you can't change it over to now," says Kröger.
"We need a base load that we can fall back on if the renewables are not available in sufficient quantities. We are currently doing that with conventional energies."
In addition, Deutsche Bahn has long-term supply contracts with energy suppliers, some of which are for 20 or 30 years.
Deutsche Bahn covers more than half of its electricity consumption through long-term contracts. The rest comes from the public power grid, but has yet to be converted in so-called converter plants because the electricity for rail operations at 16.7 Hertz has a different frequency than the usual 50 Hertz.
According to the energy company Uniper, the "world's most powerful traction current converter system" is located in the Ruhr area town of Datteln. With around 400 megawatts, the system provides around a quarter of the output that the railway needs in the region.
So far, the electricity converted here has been sent to Datteln from other power plants. That could change soon, because in 2018 the Datteln IV hard coal power plant should finally go online. Eleven years after construction began, this is still not in operation because political disputes, legal proceedings and public protests delayed commissioning.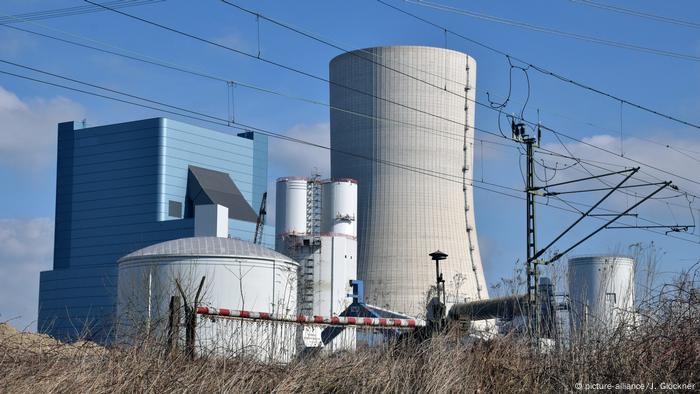 After a long delay, Datteln IV is set to produce one gigawatt of electricity from hard coal from the end of 2018
Electricity from hard coal
Most recently, the start was planned for the second quarter of 2018. But at the beginning of December, the operator Uniper discovered cracks in the steam generator. "But we assume that it can be repaired," Uniper spokesman Georg Oppermann told DW. The company is now targeting the fourth quarter of 2018 for network operation. Then around 400 megawatts of electricity will be generated there for the railways.
"The railway is green", but lets its locomotives run with relatively dirty coal-based energy - for environmentalists that doesn't go together. When it goes online, the Datteln IV power plant will be "the largest CO2 spinner on German soil," said Philipp Kosok, spokesman for the environmentally oriented Verkehrsclub Deutschland (VCD), the business magazine "bizz energy".
Another point of criticism: While in other countries dates are set for the coal phase-out, the railway undertakes in the long term to buy environmentally harmful electricity.
Operator Uniper and major customer Bahn, however, praise the modern technology of the new power plant. "When it goes online, Datteln IV is by far the cleanest coal-fired power plant," said DB spokesman Kröger.
The rail spokesman does not want to comment on the details of the contracts between Uniper and Bahn, in particular the length of the terms. He emphasizes, however, that the company's green electricity goals "do not conflict with the long-term contracts".
Traction current is not everything
But even if the railway reaches this goal, it will not be completely green.
Because electricity for rail traffic only accounts for around a third of the Group's total electricity consumption, the rest is used by train stations, offices and other properties. Also, only 60 percent of the route network is electrified at all. In addition, the Schenker logistics division also uses diesel locomotives, trucks, planes and ships.
But here, too, there is at least one goal: by 2030 the group wants to reduce its CO2 emissions worldwide by 50 percent and become a "completely climate-neutral group" by 2050, promised Deutsche Bahn boss Lutz in advance of the Bonn climate conference.