What are the rules for new patents
Protection requirements
content

What can be patented?
Due to the constant further development of science and technology, the border areas of patent protection have to be redefined again and again. In principle, objects and processes from all areas of technology are patentable, although the classic term technology is constantly expanding with the advancement of science. In addition, an invention must be executable and presented in a comprehensible manner in order to be patentable.
According to § 1 Abs. 1 PatG there is three criteria for the patentability of inventions:
novelty
Relying on an inventive step
industrial applicability
novelty
An invention is new if it does not belong to the state of the art. The state of the art includes all knowledge that in front the registration of the invention in question accessible to the public worldwide in every imaginable way were. This can be the case, among other things, through written or oral descriptions, use or exhibition. The written descriptions include, for example, books, magazines, and patents. Oral use includes, for example, a lecture at a conference.
Information that you have published yourself is also part of the state of the art. As an inventor, you should therefore make sure to keep your invention secret before registering.
Inventive activity
Even if your invention is new worldwide, it does not automatically have to be patented. This can happen if it is a very obvious and small "innovation". Inventive activity means that the "innovation" must stand out sufficiently from the state of the art.
Commercial applicability
The most important links for patent registration
According to Section 5 of the Patent Act, an invention is "commercially applicable if its subject matter can be manufactured or used in any commercial field, including agriculture." Medical and surgical treatment and diagnostic procedures are excluded from this and cannot be patented. Nonetheless, products that are to be used in such a process, such as surgical instruments or pharmaceuticals, are eligible for protection.
What is a technical invention?
A patent is only granted for technical inventions. The constant further development of science and technology is changing the border areas of patent protection continuously. What a technical invention is is therefore not defined in the Patent Act.
Against it is listed what Not to be regarded as a technical invention and thus Not is patentable, for example:

Discoveries (finding something that is there, e.g. magnetism, X-rays)
scientific theories
mathematical methods
Aesthetic creations (design protection would be an option here)
Plans, rules, and procedures for doing mental activities, playing games, or doing business
Programs for data processing systems and the reproduction of information
Exclusions and special regulations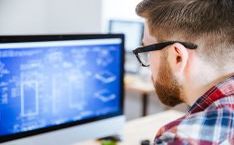 For example, the following are also excluded from patent protection:

Inventions that violate morality or public order
Plant varieties and animal breeds (plant varieties can be registered with the Bundessortenamt in Hanover)
Process for cloning humans
Process for modifying the genetic identity of the human germline
The following are patentable under certain conditions:
Computer programs
Computer programs as such cannot be patented, but so-called "computer-implemented inventions" are. These must be based on technical considerations and solve a technical problem. Here you can find more information about the protection of computer-implemented inventions.
biotechnology
Inventions in the field of microbiology and biotechnology are not generally excluded from patent protection. The regulations of the EU Biotechnology Directive affect national legislation. Find out more about biopatents here.

Image 1: iStock.com/nongkran_ch, Image 2: iStock.com/deandrobot
Status: 12/12/2019