Fidel Castro: Death of a Controversial
Donald Trump made it short: "Fidel Castro is dead!" He tweeted on Saturday morning. He later added: The revolutionary leader was "a brutal dictator". As US president already elected but not yet in office, Trump promised that his administration would do everything to pave the way for the Cuban people "towards prosperity and democracy".
President Barack Obama, who described the Cuban nation as a "friend and partner", found clear, but also diplomatic words. For nearly six decades, "controversy and grave political differences" had shaped relations between the United States and Cuba. He tried to find a new future that focused on common ground, said Obama.
A day for Cuba's exiles
The telegram from the Vatican, in which Pope Francis expresses his condolences to the Cuban people, is rather sparing in its choice of words. It was "sad news" that he would pray for the deceased, he wrote. Unlike other former communist states, Castro, although an atheist, never completely broke with the Catholic Church. In September 2015, Francis met Castro in Havana.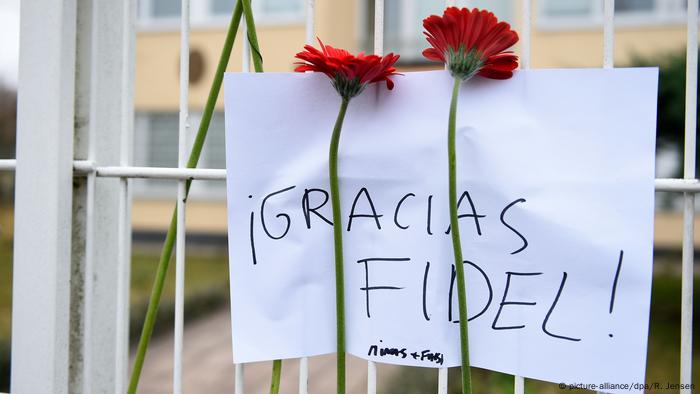 November 26, 2016: A simple last greeting in front of the Cuban embassy building in Berlin
The position of the Brazilian liberation theologian Leonardo Boff is marked by great sympathy for the eternal revolutionary. He said that he valued the Cuban head of state "as a charismatic personality," said Boff, who is currently visiting Berlin. Castro "always remained true to his ideas of socialism". He also paid tribute to Castro's Jesuit background. He knew the Christian traditions.
Almost all Cubans in exile strike a completely different note. Especially those who live in the US state of Florida. "It's good that he's dead," said a young man into the microphone of the reporter in Havana. "Now only the brother is missing," adds the 22-year-old and makes no secret of his anger at Castro and his brother Raúl. He has to prostitute himself to make ends meet. What the island state needs are jobs and they don't exist.
Castro's death is celebrated among the Cubans in exile in Miami. The decades-long political opponents of Máximo Líder celebrate the news of the demise of the historically controversial statesman with car parades and horn concerts. The Cuban exile community in Spain has no reason to mourn either. "I'm never happy about someone's death, but for us Cubans it's good news," said Antonio Guedes, President of the Cuban Liberal Union ULC, in an interview with DW: "Castro's death is a small but important step towards it at the end of his inhuman regime. "
Revolutionary romance and real belief in the idea
The first political reactions from around the world are more diplomatic. French President François Hollande honors Castro as "a personality of the 20th century". He embodied the Cuban revolution with both its hopes and its disappointments, he said in Paris, recalling that France had always denounced human rights violations in Cuba, but at the same time always spoke out against the US embargo. Spain's Prime Minister Mariano Rajoy expressed his condolences to the Cubans on Twitter, while the conservative politician called Castro a "figure of historical importance".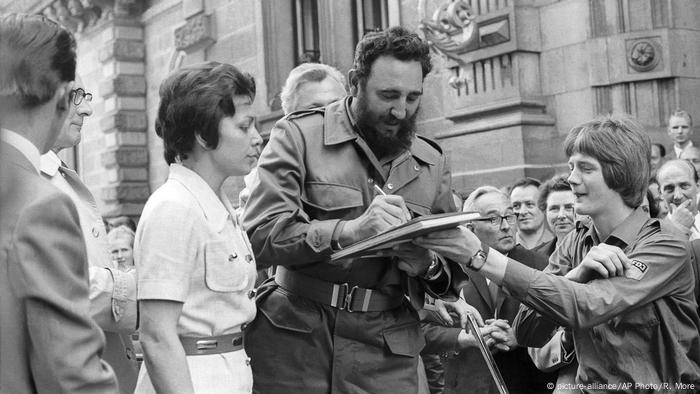 Visiting the other Germany: Castro in East Berlin in June 1972
A "symbol of an era", so the words of Kremlin chief Vladimir Putin in a telegram to Cuba's head of state Raúl Castro in the morning. "Fidel was a sincere and reliable friend of Russia," said Putin. Michael Gorbachev, the last President of the Soviet Union, recalled Castro's resistance to the "toughest blockade" in the United States, from which Cuba had emerged stronger.
The very first reaction from Moscow seems downright lyrical. Both Castro and his comrade-in-arms Che Guevara had a life full of "revolutionary romance and genuine belief in the idea," wrote Russian foreign policy expert Konstantin Kosachev on Facebook. However, the chairman of the foreign affairs committee in the Russian Federation Council admitted that Cuba "was not a flourishing oasis under him".
Gennady Zyuganov, head of the Russian Communist Party, spoke out in favor of continuing to support Cuba and proving himself a loyal friend. Chinese President Xi Jinping also offered verbal consolation. The Chinese people have "lost a good and true comrade," he said, and: "Comrade Castro will always live on."
Castro, an icon of the left
The reactions to Castro's death in Latin America were particularly numerous. He was like my "second father", said soccer legend Diego Armando Maradona in Buenos Aires, he was terribly sad. "Fidel has set out to immortalize those who struggle all their lives," tweeted Venezuela's socialist prime minister Nicolás Maduro. Rafael Correa, head of state in Ecuador, praised the deceased as a great one who has passed away. And Fidel's former guerrilla commander Salvador Sánchez Cerán, currently President of El Salvador, wrote: "Fidel will live forever in the heart of the solidary peoples who fight for justice, dignity and brotherhood." This assessment is topped only by Evo Morales. The Bolivian President simply calls Castro a "giant of history".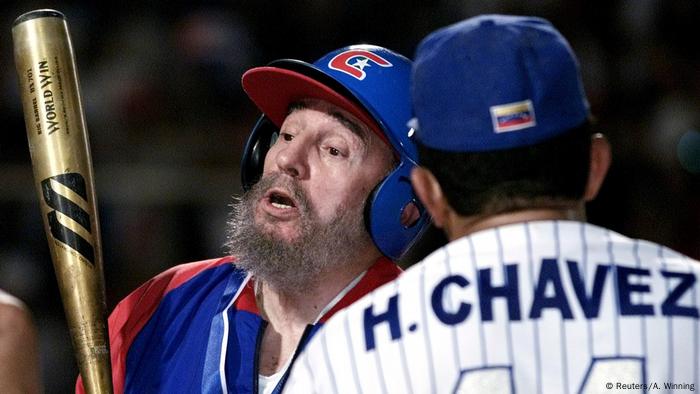 Also the greatest in sports: Castro, already very old as a baseball player
The reactions in Brussels are more sober. "A historical figure of the past century," said Castro, said EU Commission President Jean-Claude Juncker, and "the embodiment of the Cuban revolution". History will decide his legacy. And Martin Schulz, still-President of the European Parliament, wrote on Twitter: "Fidel Castro shaped Cuba, Latin America and world politics. A chapter in history closes. The EU looks to the future together with the Cuban people."