Why is pizza so expensive
Why my pizza has gotten more expensive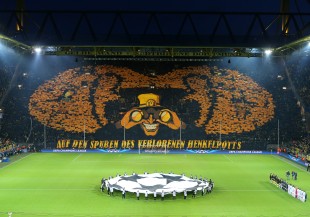 Sometimes, only sometimes, when I'm hungry and lazy at the same time, the last resort is: pizzeria. Now the thing is that I'm not picky about it. For as long as I can remember, I've had my favorite pizzeria just around the corner. Yesterday was one of those days when I didn't feel like cooking, but rather a pizza. So I called there. You know each other. I figured I'd give a Pizza Napoli a try, considering the upcoming Champions League game. Actually not my favorite, but I wanted to give it a try. So: called, ordered, ready for collection in 15 minutes.
So I set off quickly. When I got there, my meal was already ready. Short small talk. A couple of jokes about the game. Tips exchanged. Then I wanted to pay - and looked amazed at the till display. There was € 7.50 for a small Napoli pizza. "7.50 €?" I asked, relying on a typo. The menu said a different price, two euros cheaper. But Giuseppe explained to me that the card was three years old.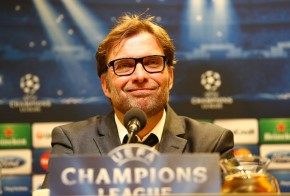 "Let me explain it to you in more detail. Come on, let's have a seat, "he said. Because I was hungry, but also had time, I didn't want to contradict him and took a seat at a fine wooden table. Giuseppe began to tell.
"I must have told you before that my family is from southern Italy. More precisely, I was born in Naples, in Napoli. Well, and there it has a great tradition - and every pizza maker adheres to it - to adjust the price of our favorite pizza to the shape of our beloved SSC. It may sound crazy, but it's true. And if you know a little about the history of the club, you will know: There have been quite a few price drops. "
I shook my head.
"OK. First of all: We Neapolitans are very proud of our club. We never had the huge successes, but we have always been able to stand up to the big clubs from the north. Well, up to the 80s we always played pretty well, occasionally becoming cup winners, but nothing more - until Diego Maradona signed with us. The guy sparked a huge hype and is still adored today. Those were our "golden years". We were a big number and won the UEFA Cup, for example. "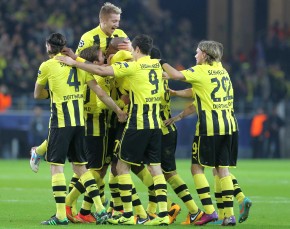 Giuseppe paused briefly, looked with a smile at his signed Napoli shirt, which he had displayed in a picture frame in the best place in his pizzeria.
"Do you see? Diego signed that for me when I was a little boy. I haven't washed it since. Well, you can imagine - because the tradition was still valid back then - how expensive the pizza prices were for a Napoli at the end of the 80s. But the price suddenly fell rapidly. What happened? With Maradona's doping ban, we went downhill too. The "golden years" were suddenly gone. Then in 1998 the low point: We were relegated to Serie B. But that's not all, the downward trend continued steadily. In 2004 it was so far that we had to file for bankruptcy. Very bad, I tell you. For the new season we started under a new name, Napoli Soccer, in the C1 series. That was a difficult time. You Dortmunders went through almost the same thing at the same time. The fact that we are so high up again today would not have been possible without Aurelio De Laurentiis. He actually makes films, little-known, rather shallow fare. He then probably wanted to shoot his very own success story with the SSC - in 2006 we bought our real name back. Which he also succeeded in doing. As quickly as we were going downhill, we were back to where we belong: in Serie A. After finishing eighth and twelfth place, our path to success should only really begin in 2010. As befits the SSC, a person had to be found who could be idolized: it was to be Edinson Cavani. An incredible player. In the 2010/11 season alone he shot us almost alone in third place with 26 goals. "
Meanwhile, sipping a cappuccino from Giuseppe, I continued to listen attentively to his Napoli history lesson. I wasn't even aware that he was so familiar with it.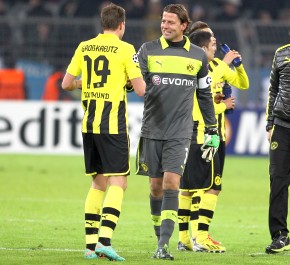 "Siiiii," he continued pathetically. "And this third place also meant participation in the Champions League. The first since 1990. Can you imagine that? Of course, the Pizza Napoli prices soared. In the meantime, at the beginning of the new millennium, you got it almost for free - dark times ... You are really spoiled after your last CL season. Well, where did I stop? Oh yes: in the penultimate season we did really well across Europe - but also at the expense of Serie A. We slacked off there. Fifth place. At the same time, however, we were able to celebrate our first title win in years, namely the Coppa Italia. Last year we got an outstanding second place. "
But now, I interrupted, the Cavani is gone, isn't it?
"Oh, the matador. Nothing at all revolves around him anymore. In the summer we drove through Europe, or rather Spain, with oversized shopping carts. Raul Abiol, Jose Callejon - and Gonzalo Higuaín from Real have joined us. My God, you can't imagine how we idolize Higuaín. He is the new Cavani. At least. He and Callejon have already met five times. To this end, Hamsik, who is currently renewing his contract, used four times. You must be afraid of us. We are currently in top form. Three games, three wins. "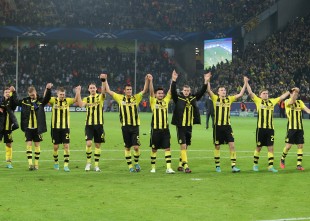 Giuseppe couldn't intimidate me with that. I took the sports section of the daily newspaper that was on the table and smiled at the Bundesliga table. Giuseppe's gaze flickered over it only briefly.
"Oh, you with your five victories. My friend, unfortunately I have to disappoint you. We won't be able to get anything on Wednesday. I swear that with my Maradona jersey. Because Benitez, our new coach, has a built-in CL guarantee of success. Scusi, but there is no getting around Napoli at the moment.
So, that's it for me. I didn't really want to tell that much. But good: Now you at least know a lot about the club of my heart - and why the pizza costs € 7.50. We are in a very good mood again. "
I took my last sip, thanked you for the Neapolitan history lesson, and got up. Meanwhile the Pizza Napoli had turned cold. So I ordered a little margaritha. Eleven other Borussia will devour Napoli tomorrow. On that place.
So they could play
SSC Napoli: Reina - Maggio, Raul Abiol, Britos, Zungia - Inler, Behrami - Callejon, Hamsik, Insigne - Higuaín.
Borussia Dortmund: Weidenfeller - Großkreutz, Subotic (Sokratis), Hummels, Schmelzer - Bender, Sahin - Aubameyang (Blaszczykowski), Mkhitaryan, Reus - Lewandowski.
On the bench: Langerak - Kirch, Durm, Sokratis, Blaszczykowski, Hofmann, Duksch, Schieber
It lacks: Gündogan, Kehl, Piszczek
Referee: Pedro Proenca (Portugal).
Spectator: 60240 are possible in the Stadio San Paolo.
The game will be broadcast on ZDF.
Leon, 09/17/2013